#SmallBusinessThatRocks: Scizzorhands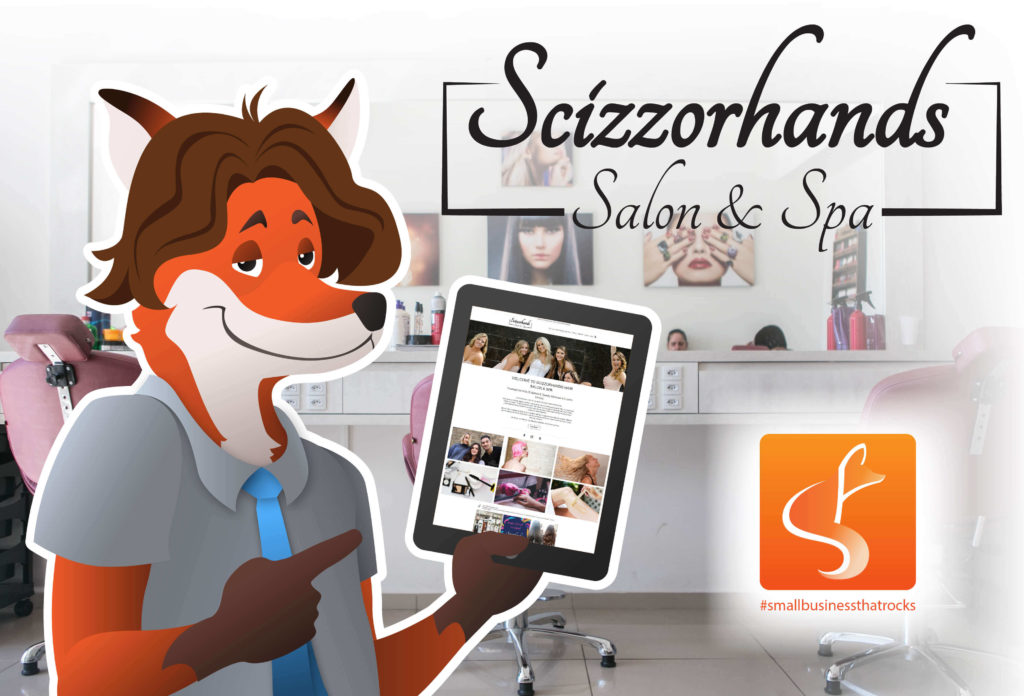 Image is everything. While this might sound superficial, for small businesses trying to make it online, it's true! One small business is welcoming this motto as they use social media and SEO to effectively reach new clients and continue relationships with current ones. Nadina and Alaina, the owners and operators of #SmallBusinessThatRocks Scizzorhands Salon & Spa, are expressing their unique image on Facebook, Instagram, and their website, all while helping her clients find their best image, too!
Remember The Past, Embrace The Future
The founder of this local institution, Glynis, opened the business as Scizzorhands Hair & Esthetics in 1993, and she and her team have had a beloved presence in the London community. The team has always taken pride in keeping their cutting and colouring skills up-to-date, helping every new generation express their own personal image. This image has changed a lot since 1993, meaning they've had to consistently upgrade their style education to keep up with what's trendy. But this commitment has never changed, and with Glynis' daughters Nadina and Alaina at the helm, Scizzorhands has expanded what they offer to stay current and competitive.

Now the business is Scizzorhands Salon & Spa, with the name change reflecting their expansion into new services. One example of this expansion can be found in the lessons they offer to interested clients. Microblading, an eyebrow color enhancement technique that's recently become popular in North America, is one new skill that Londoners can learn for themselves. Co-owner and operator Alaina guides her students through every step of the way. Training people with contemporary skills is one-way Scizzorhands has adapted to changing demands. Another, and this might be one of their coolest offers, is the free, no-obligation estimates on all of their services. They're upfront with everyone coming through their doors.
But staying competitive in the salon industry means more than knowing the latest on color, highlights, bridal hairstyles, make-up, and other important hair and skin care skills. It means using the Internet to tell a story, to relate to potential customers, and to effectively reach them where they search – i.e. Google.
Reaching Out To The Community
Scizzorhands has never been just about hair and makeup. Their strong belief in supporting community initiatives and making local connections has helped them grow beyond anything they could have imagined. This focus on the local community has helped them know where to take the business throughout its 26 years. It's what brought them to SlyFox, too, and we helped them move this local focus online!
Reaching out to your community by using SEO tactics is a lot easier when you have a diverse array of unique, interesting content. Some of the fun ways Scizzorhands is sharing this content on Facebook and Instagram is with their "Hair Tips" and before and after photos of happy clients. As well, the website is optimized to encourage clients to leave reviews, helping the business stand out on Google's various platforms. These all work well with Glynis' original business philosophy: develop the skills to best serve the needs of the client. The tactics might have changed with the times, but the message never did!
Knowing what their clients want, showcasing their successes, and spreading this message online are some of the ways Scizzorhands Salon & Spa is thriving in the Internet era. Whether you are getting married, celebrating prom, need a new 'do, or just want a few hours of pampering, the team at Scizzorhands will have exactly what you need. SlyFox will be there to help tell their story!
Check out the new Scizzorhands website today!
Please follow and like us: