My Experience With SlyFox – Sarah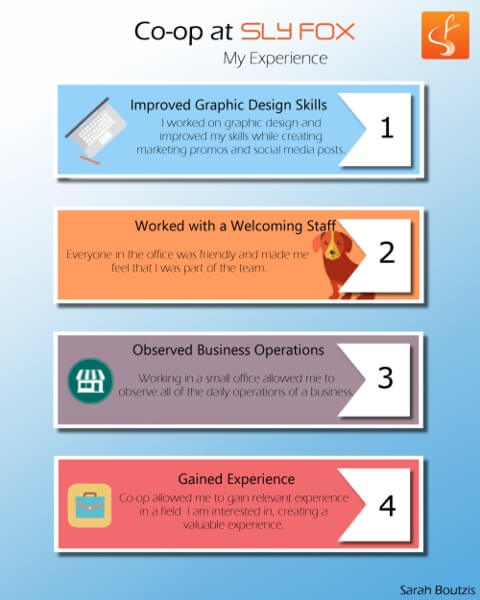 Here at SlyFox Digital Media Marketing, the office is constantly busy and there is always something going on. Slow days are very rare but a busy office means there is always something to be done.
I started my co-op at SlyFox in late February and they were happy to take me on. They welcomed me and made me feel like a part of the team right away. I was given tasks that focused on what I wanted to learn and these past few months have been a valuable experience.
Personally, I don't think anywhere else would have been as valuable as SlyFox was for me. I learned about daily activities of a business, and because of the office size, I got to observe everything going on around me.
Daily, I would design new graphics, work on social media posts and even write content for blogs or websites. Basically, I was a helping hand and when something needed to be done, I was there to complete the job. I have expanded my knowledge of graphic design and have learned a new program in the process. Having the opportunity to constantly work on my graphic design skills made each design better than the last.
I would have to say my favourite part of my entire experience was Rusty. Yes, he really is that cute. He provided stress relief when needed and was always willing to receive a belly rub. On most days he could be found having a nap, sometimes under my desk. He takes well-deserved breaks from being the personal office greeter and centre of attention. Obviously Rusty wasn't the only good part. The welcoming staff was also a bonus and made me feel as though I was part of the team every day.
Honestly, co-op is such a great experience because of the valuable and practical skills you learn. It gives you real life experience in whatever field you're interested in. Completing a high school co-op gives you an opportunity not many other students have. I am graduating at the end of this year and plan to complete a co-op in university as well. Having already been in a placement allows me to have an expectation of the process.
Overall, I have enjoyed my experience and it was valuable to apply the knowledge I have learned. SlyFox has been a place in which I have grown and I can't believe it's been 4 months. The time flew by, and if I could do it all over again I would without a doubt. I had so much fun getting outside of the classroom and completing  work I'm interested in. I'm so grateful that SlyFox took me in and let me learn alongside them.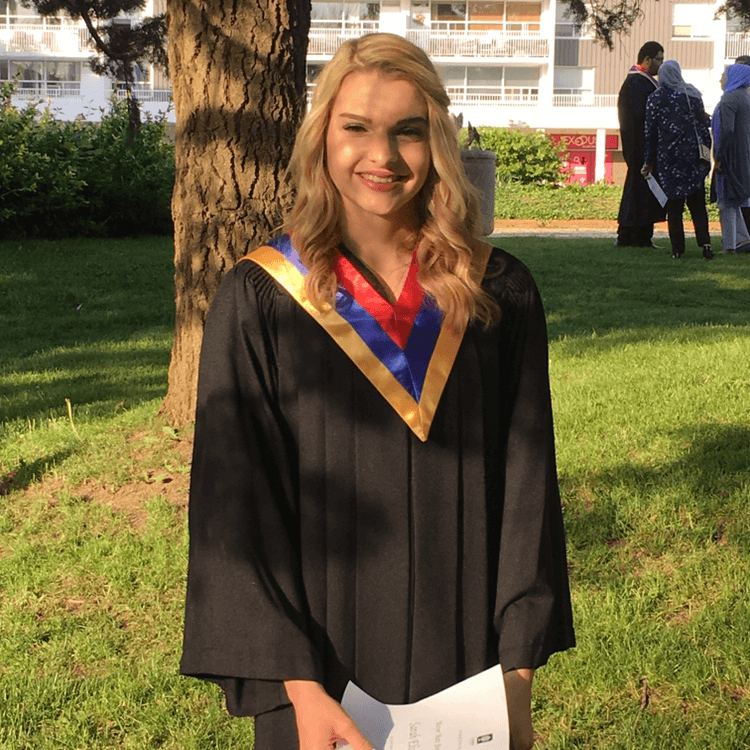 Written by Sarah Boutzis.
Current Grade 12 student at Oakridge Secondary School and future Laurier Golden Hawk. School keeps her busy but in her rare free time she can be found watching Netflix or playing soccer. Lucky for her, she is a hard worker who is determined to do her best and loves to stay busy.
In her eyes, there is no such thing as having nothing to do, there is always a task to complete, whether it be big or small.
Please follow and like us: