My Co-op Experience At SlyFox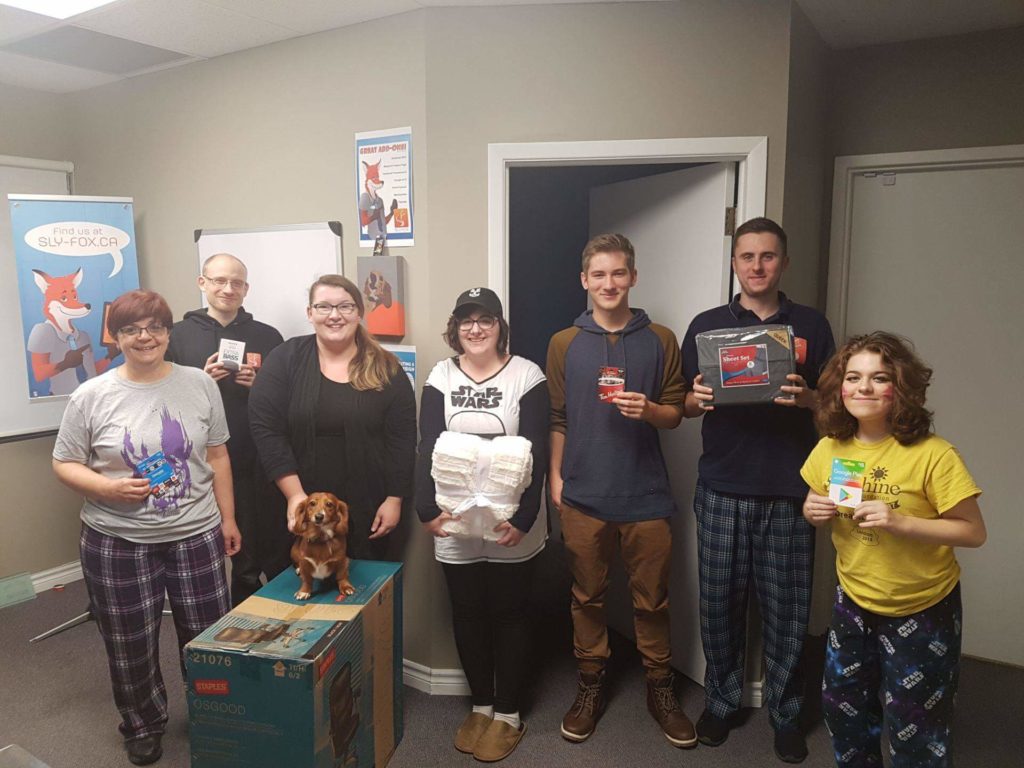 This week we said goodbye to one of our amazing co-op students Carrington Horton. She was a great addition to our staff and added a lot of positivity to the office despite the sometimes hectic schedule at our office ranging from back to back meetings to deadlines and client interactions. She loved to express her creativity in tasks like designing social posts, giving feedback on websites and even painting on the office window! Every co-op student has the opportunity to write a personal blog that highlights their experience and poignant memories. Below is Carrington's blog about her time with SlyFox!
Hi! My name is Carrington Horton and I have done a co-op placement at SlyFox from September 17th, 2018 to January 23rd, 2019. I am an SHSM (Specialist High Skills Major) student within the field of visual arts, so I broke that down into what I am most interested in, graphic design. This placement was recommended to me by my co-op teacher, he said that I would be the first student from my school to do a placement here. So then I looked at their website, did some research, and called for an interview. When I got there everyone looked welcoming and friendly, of course along with Rusty. Mike was the person who interviewed me and he wasn't strict at all, which was very helpful. A few days after, I got the phone call saying I was accepted for the placement. Boy, was I happy, I get to put myself out there, make new relationships, and learn new things.
I was pretty quiet on my first day, which I find to be reasonable. I got a tour of the office and settled into my designated spot. For the first month or so, I was mainly creating and working on social media posts for clients but as time passed, I became more involved with planning things out and people started to leave the social media post ideas to me, so I can express myself more and unleash my creativity. Additionally, I worked on some little tasks here and there such as making photos for posts and commercial use, and daily tasks like taking out the trash.
By the time I am typing this out, I have about a Week left with SlyFox, which makes me sad. l have truly grown from this great experience and now feel like I can get my butt out there in the world and gain some experience.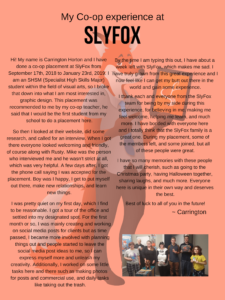 I thank each and everyone from the SlyFox team for being by my side during this experience, for believing in me, making me feel welcome, helping me learn, and much more. I have bonded with everyone here and I totally think that the SlyFox family is a great one. During my placement, some of the members left, and some joined, but all of these people were great.
I have so many memories with these people that I will cherish, such as going to the Christmas party, having Halloween together, sharing laughs, and much more. Everyone here is unique in their own way and deserves the best.
Best of luck to all of you in the future! ~ Carrington
Please follow and like us: