Adopt The Ten Qualities of a Great Leader!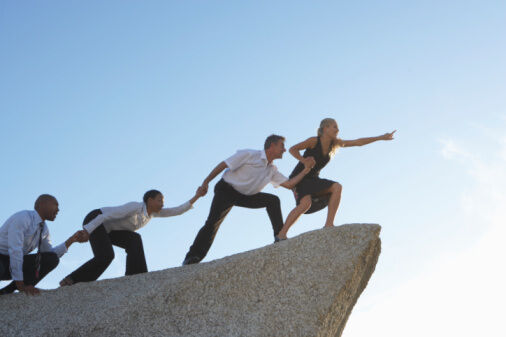 Have a positive attitude – just like a cold, attitude is contagious.
We have all heard about the power of positivity. This trait can make you a mediocre or a great leader. When leading others through adversity, negativity can grow quickly within a group. It is the leader's job to protect their team's moral through keeping a positive outlook.
Have time to listen to others – leaders must command respect from their team.
A leader cannot afford poor communication. Listening to people's problems is the key to great leadership. Having an open communication network in the work place helps to foster innovation and happy workers. Listening to others helps your business gain a positive reputation in the community while fostering innovation.
Keep an open mind – those who do not adapt… die.
Keeping an open mind prevents great ideas from being overlooked or dismissed outright. Your employees and customers have unique perspectives. Keeping an open mind to their suggestions adds value to your business. They often can see areas to improve that a leader misses.
Empower others to be their best – you are only as strong as your weakest link.
Leaders must empower everyone on their team. One person lagging behind needs that extra attention. Leave no man behind. A great leader creates a work environment that works with employees instead of against them.
Have undying passion for success – leaders have strong vision.
When no one believes in you, that's when you must be your strongest. Great leaders keep their vision at the forefront of their thoughts. This vision drives their every action. Without a clear goal, leaders are aimless. With a goal, a great leader is unstoppable.
Inspire teams to perform better – take charge and lead from the front!
A great leader leads by example. Inspiration comes naturally to a leader but it's their duty to share that inspiration with others. High performance, something that comes naturally to a great leader, is rippled from the leader into their team. Without an inspired leader, one cannot have an inspired team.
Be willing to take risks – courage is found in unlikely places.
A great leader is able find the courage to pursue their goals in the face of great risks. This is one of the most distinguishing traits of leadership.  It can be done by anybody at any moment. Whether it's speaking up in a meeting, going to talk to a cute girl or starting a new business, all of these require enough bravery to take the risk. A leader understands that taking risks will bring them want they want, not kill them.
Never quit – if leadership is easy for you, you are doing it wrong.
At times leading people can be a burden or a blessing. Through all of the ups and downs a leader never gives up. A great leader is able to handle great adversity and continue pushing on in the face of overwhelming challenges.
Display ego-less decision making – objectivity is the secret sauce of great leadership.
The ability to separate feelings from important decisions can make or break successful leadership. The skill of separating impulse from rational thinking gives great leaders an edge up over their competition, not always by being able to make the best decision but avoiding bad ones.
See the good in others – great leaders take a moment to recognize others virtues.
A leader recognizes that people are not inherently bad. They see that everyone has unique traits to bring to the team.  From compassion, to patience to high energy, a leader is able to foster what's best inside all of us.
Please follow and like us: