#SmallBusinessThatRocks: Gabriella Kikwaki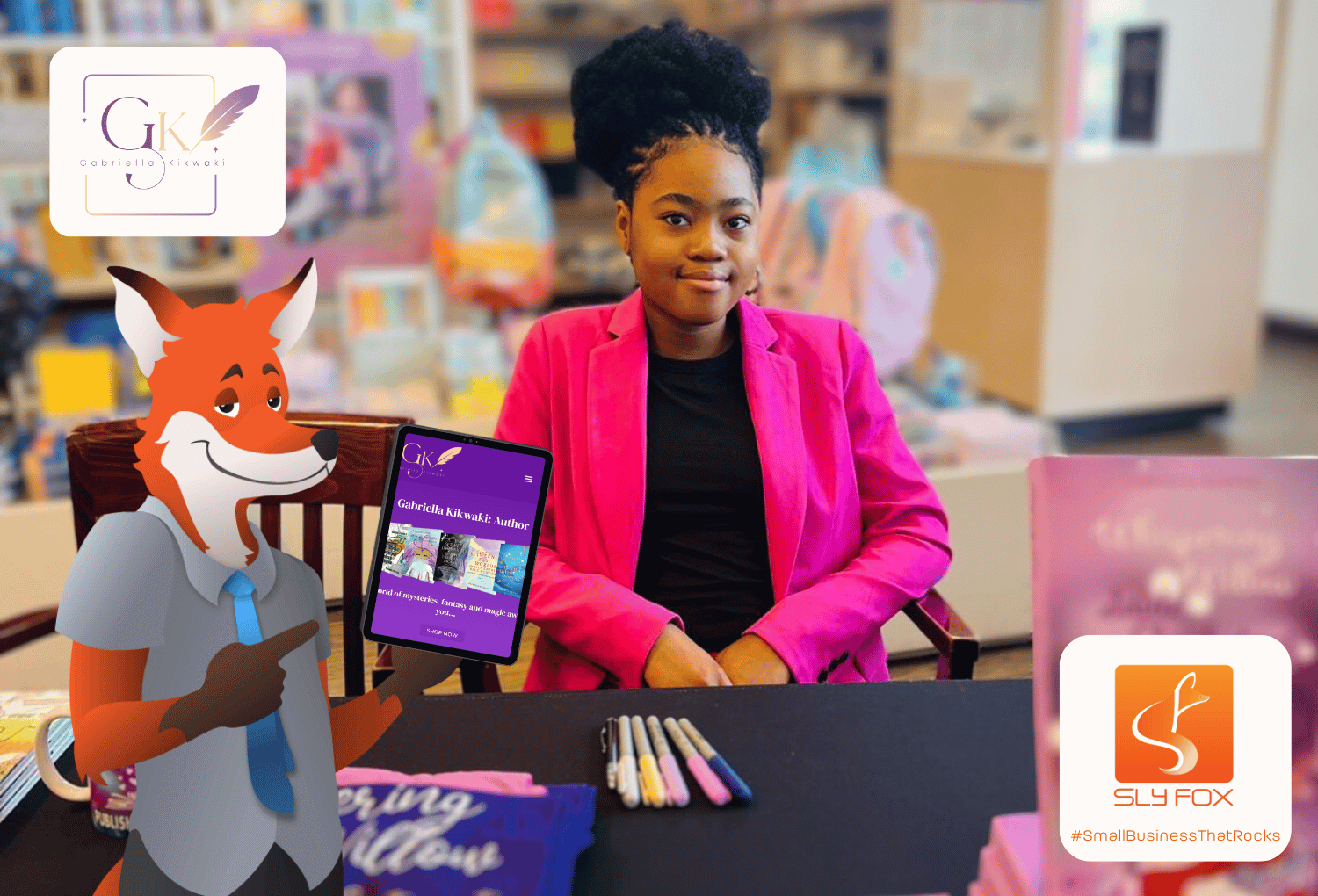 *FRENCH VERSION BELOW ENGLISH VERSION // LA VERSION FRANÇAISE EST SOUS LA VERSION ANGLAISE*
📚 Gabriella Kikwaki: Weaving Stories with Heart and Soul 📚
Crafting Literary Magic: Gabriella Kikwaki stands as a young leader in the world of literature, her pen a wand that conjures worlds and weaves narratives that resonate with the heart. With years of dedication to her craft, Gabriella has established herself as a master storyteller, whose books are not just read but lived by her readers.
✍️ Writing: Artful, Engaging, and Emotionally Resonant
Tales that Touch the Soul: Every book by Gabriella Kikwaki is a journey into the depths of human emotion and experience. From the intricacies of complex characters to the vivid landscapes they inhabit, her writing style is both immersive and thought-provoking. Her bibliography spans a diverse range of genres, each book a testament to her versatility and fresh understanding of the human psyche.
🌟 Empowering Through Words: The Gabriella Kikwaki Effect
More Than Just an Author: Gabriella Kikwaki is not just a creator of fictional realms but a real-world influencer who inspires and empowers her readers. Her words have the power to transform perspectives, ignite imaginations, and offer solace. She is a guiding light in the literary community, celebrated for:
Penning numerous best-selling novels.

Engaging in meaningful literary discussions and events.

Receiving prestigious awards and accolades for her contributions.

Inspiring a new generation of writers with her workshops and talks.

Advocating for important social causes through her writing.
📖 Community and Connection: The Heart of Her Writing
Beyond the Pages: Gabriella Kikwaki believes that literature is a bridge that connects individuals, cultures, and ideas. Her commitment to her readers goes beyond the written word; she actively engages with her audience, understanding their thoughts and feelings, making each book a collaborative journey. She is not just an author but a cherished member of the literary community, whose work continues to enchant, educate, and evolve.
🌟 GABRIELLA KIKWAKI: A Literary Luminary Shaping Hearts and Minds 🌟
---
#PetiteEntrepriseQuiMarque : Gabriella Kikwaki
📚 Gabriella Kikwaki : Tissant des Histoires avec Cœur et Âme 
Créatrice de Magie Littéraire : Gabriella Kikwaki se dresse comme un phare dans le monde de la littérature, sa plume étant une baguette magique qui évoque des mondes et tisse des récits qui résonnent avec le cœur. Avec des années de dévouement à son art, Gabriella s'est établie comme une conteuse de renom, dont les livres ne sont pas simplement lus mais vécus par ses lecteurs.
✍️ Écriture : Artistique, Captivante et Chargée d'Émotion
Des Récits qui Touchent l'Âme : Chaque livre de Gabriella Kikwaki est un voyage dans les profondeurs de l'émotion et de l'expérience humaines. Des complexités de personnages riches à leurs paysages vivants, son style d'écriture est à la fois immersif et provocateur de réflexion. Sa bibliographie couvre un large éventail de genres, chaque livre témoignant de sa polyvalence et de sa compréhension profonde de la psyché humaine.
🌟 Inspirer par les Mots : L'Effet Gabriella Kikwaki
Plus qu'une Simple Auteure : Gabriella Kikwaki n'est pas seulement une créatrice de mondes fictifs, mais aussi une influenceuse du monde réel qui inspire et autonomise ses lecteurs. Ses mots ont le pouvoir de transformer les perspectives, d'allumer les imaginations et d'offrir du réconfort. Elle est une lumière guide dans la communauté littéraire, célébrée pour :
Avoir écrit de nombreux romans à succès.

Participer à des discussions et événements littéraires significatifs.

Recevoir des prix et distinctions prestigieux pour ses contributions.

Inspirer une nouvelle génération d'écrivains avec ses ateliers et conférences.

Défendre des causes sociales importantes à travers son écriture.
📖 Communauté et Connexion : Au Cœur de Son Écriture
Au-delà des Pages : Gabriella Kikwaki croit que la littérature est un pont qui relie les individus, les cultures et les idées. Son engagement envers ses lecteurs va au-delà des mots écrits ; elle interagit activement avec son public, comprenant leurs pensées et sentiments, faisant de chaque livre un voyage collaboratif. Elle n'est pas seulement une auteure, mais un membre chéri de la communauté littéraire, dont le travail continue d'enchanter, d'éduquer et d'évoluer.
🌟 GABRIELLA KIKWAKI : Une Luminosité Littéraire Façonnant Cœurs et Esprits 🌟
Please follow and like us: