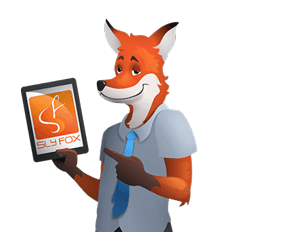 When setting up a website, sometimes, less is more! Rather than build a website using a complex map of pages, many small businesses are finding a one-page website works best. If you're one of them, SlyFox has the solutions for you. 
One-page websites don't require much from the user – all they have to do is scroll to get all of the information you have to offer. They're less expensive, require less maintenance, and can tell a great story to convert visitors into customers.
Why Would You Want To Create A One-Page Site?
Most websites have multiple pages, with a home page leading to other important information. A one-page website condenses all of this information down to a single home page, often separating the dedicated sections in a way that lets the eye move smoothly while scrolling. 
For certain small businesses, there are many benefits to the one-page website:
Are you visualizing your one-page website already? When planning it out, make sure to include all the details visitors have to know about your business!
What Are The Essential Elements Of A One-Page Website?
Websites that are a single page should have all the elements needed to convince visitors to take action. In order or where the information should sit on the page, these elements include:
While this sounds like a lot, every aspect of your one-page website must work towards your small business goals.
SlyFox Uses WordPress To Make One-Page Sites That Work
The best tool for making a website that works for your small business is WordPress. The SlyFox team knows how to use all the elements to their best potential, ensuring you have a beautiful, uncluttered website that still tells your visitors what you want them to know!
We understand how the frontend isn't the only important part of a one-page site – the backend is just as necessary! We use coded elements and widgets to maximize the search engine optimization (SEO) of your website. 
If you're ready to add a website to your small business, call SlyFox today! We can help you set up a one-page website that works to get you the leads and conversions you need.